With Halloween behind us, the rest of the holiday season is officially upon us! There's only 13 days until Thanksgiving, which means you most likely already have or are about to take down your Halloween decorations and break out the goodies for turkey week. So today, we're talking tips for storing holiday decorations in a way that keeps them safe and sets you up for an easy decorating experience next season.
---
---
Color Coded Containers
These are great for distinguishing seperate holidays. Having a specific color for each occassion makes it easy to grab exactly the container you need when the time of year comes. You can usually find orange and black bins for Halloween as well as red and green ones for Christmas. If you like a more streamline look, like me, you can get all identical containers and just use labels to dinstinguish them.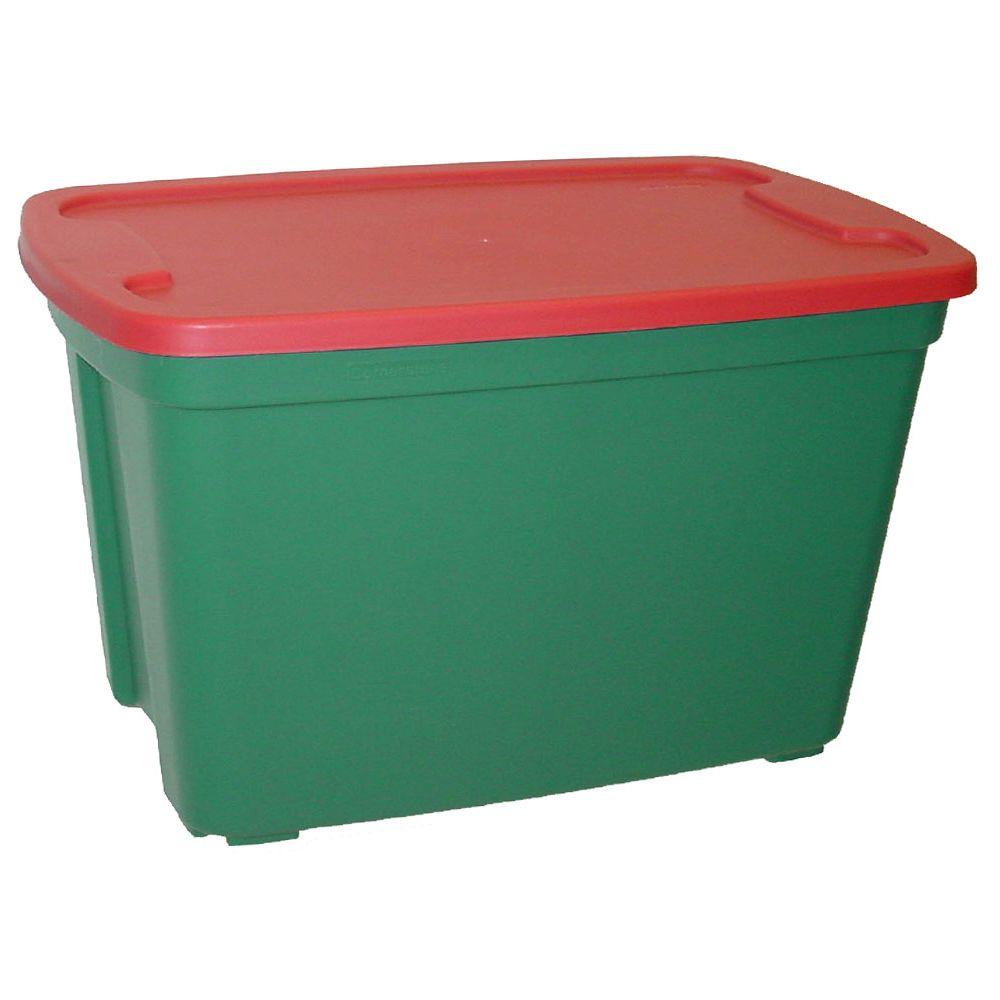 [ via Home Depot ]
---
---
LABELS, LABELS, LABELS!
Did I mention labels?! This is so critical to preventing a major headache for yourself next time you need to get to these items. While one or two word labels are visually appealing and can be great for grab and go items, I recommend also writing a list of items in the container and taping it to the inside of the lid because holiday bins tend to have various items combined in one. This helps save your storage bins from becoming a giant junk drawer.
Hanging Chalkboard Labels 
[via Hobby Lobby ]
Reuseable Chalkboard Stickers
[ via Amazon ]
---
---
Contain what lies within the container
Do you find yourself so exhausted after a full holiday season of cleaning, decorating and entertaining that you just throw everything into a box and shove it in the garage until next year? If so, you are not alone! While convenient in the moment, this method merely allows us to dig a deeper whole for ourselves to get out of when the next season comes around. Take the time to go a step further by organizing the contents inside your bin/box. Here are a few ways to achieve this:
Upcycle cereal boxes into an organizer and place inside of a larger boxes to organize/store similar items:
[ Instructions via Paper Craft Idea ]
Let there be light next year as well. Prevent broken bulbs by storing your lights properly with a storage system such as this one: 
via Amazon
Keep your Ornaments in Order! 
via Amazon
---
---
Go all the way up!
Get creative with your storage solutions like this garage company does by installing a rail system on the roof that storage bins can slide right into. Remember, you don't have to hire a professional to use vertical space in your home in other ways. This is just a little inspiration for us.
[ via All Things Garage ]
---
---
Be Mindful and Minimize where you can!

Each year as you pack things up, ask yourself these questions:
Did I use it this year?
If you did not use it this year and plan to keep it for next year, where exactly would you place it is as a decoration considering what you used this season? Ask this question while this years decorations are still up, if possible, so you can visually see where/if you in fact have space to add certain items to your decor scheme.
Could someone else I know benefit from me letting go of this item as a gift or decor item for them?
Would my donating this item brighten another family's holiday season?
---
---
I hope these tips help keep your
holidays bright and your home in order!